IL Recommends | Top Whisky Bars in Uk & Ireland
"Whisky is liquid sunshine" said George Bernard Shaw, and who are we to argue? Whether you like to savour a rare single malt, sip a smoky classic or try a cheeky arriviste, we have scoured Britain for the very best whisky bars in which to enjoy the amber nectar. From London 's classiest hotel to an authentic Irish den, you'll find the perfect place to taste whisky's finest.
IL Recommends | 

Top Whisky Bars in Scotland 
The Quaich Bar | The Craigellachie Hotel
Dating back to the 1800s, the Craigellachie Hotel in Speyside is a favourite with distillery visitors, and the newly renovated Quaich Bar has an extraordinary selection of malts (over 700 at the last count). Thankfully the staff have the knowledge to guide you through the marathon list, and can steer you towards something special at the end of an evening.
---
The Pot Still, Glasgow
You can't get much more central than The Pot Still – a traditional pub (in a good way), set in the heart of Scotland's biggest city. Run by a whisky-mad family, The Pot Still boasts a gantry of over 650 whiskies, and with the switched on bar staff, plus an inimitable Glaswegian atmosphere, this is the place where whisky lovers in the know pop in for a wee drop of gold. It also won Scottish Field's Whisky Bar of the Year award in 2016.

---
Fiddler's Bar & Restaurant, Drumnadrochit, Loch Ness
Another award-winning operation, also family-run, Fiddler's is a centre of all things Scottish (we won't mention Nessie) and these guys seem to do everything brilliantly, from cooking salmon to making haggis. But it's their whisky library which deserves our attention; we particularly rate their Top Ten Desert Island Drams for shortlisting some great whiskies – ideal if you're just starting out on your whisky journey.
---
Whiski Rooms, Edinburgh
Situated in a prime location in Scotland's capital up high on the Mound are the Whiski Rooms. With breathtaking views over the city and regular tutored tastings there is a dedicated whisky shop and 'Ardbeg Embassy' status, so if that's your favourite tipple, the Whiski Rooms are a must-visit when visiting Edinburgh.
---
The Ardshiel Hotel, Campbeltown
This legendary hotel was built for one of Campbeltown's whisky barons in the Victorian era, and its Usquebaugh Bar offers an amazing choice of over 200 whiskies including some lovely Islay malts and other West Coast and Highland beauties. Tuck into some delicious locally caught seafood while you're there, and you've ticked off two treasures from Scotland's larder in one go.
---
The Jura Hotel, Isle of Jura
A lovely spot to stay or have a bite to eat, the Jura Hotel is literally yards from the local distillery and also very much at the heart of the island community. If you want a taste of the real Scotland (and some superb whisky), then this is the place to come. There's even an exclusive in house Jura whisky that you won't be able to find anywhere else in the world.
---
Scotch at The Balmoral Hotel, Edinburgh
With over 400 different single malts and luxurious tweed and velvet sofas to sink into, not to mention the super-skilled whisky ambassadors ready to tend to your every whim, the Scotch bar at Edinburgh's iconic Balmoral Hotel is the pièce de résistance of whisky bars.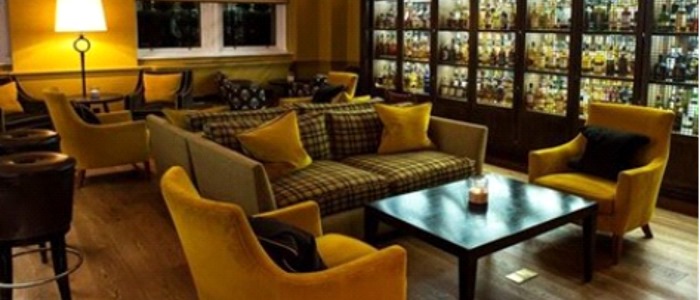 ---
The Blue Bar, Perthshire
Arguably Scotland's best known hotel, Gleneagles is home to several marvellous bars, but it's The Blue Bar that's taken our fancy: a luxurious, semi-alfresco setting with soft throws, a fire pit, leather sofas and even Cuban cigars: this is one for the real whisky connoisseur.

---
IL Recommends | Top Whisky Bars in England
Boisdale of Canary Wharf, London
An entire wall of amber bottles awaits at this stylish establishment in London's docklands district, and with a 12 metre long bar there is plenty of room to enjoy a taste of at least some of them. Increasingly a 'must visit' destination for whisky enthusiasts, the 1000 malts at Boisdale include some unusual offerings from English, Welsh and Indian distilleries. Oh, and Jools Holland is the Music Patron, so you're definitely in for a good time here.
---
Black Rock, London
Now this one is a little different. Calling itself a Whisky Den, Black Rock is a subterranean bar with an extraordinary focal point: 18 feet of an ancient oak tree trunk has been split in half and runs down the centre of the room. Plumbed in with whisky and water taps it offers over 250 varieties and some splendid whisky cocktails. As praised by GQ magazine, no less.

---
The Whiskey Jar, Manchester
In the hip Northern Quarter of Manchester, this converted textile-mill-turned- cocktail-bar is where it's all happening, whisky-wise. Specialising in whisky from all over the globe, with over 300 to try, there are tutored tastings, bare brick walls and a state of the art sound system. A far cry from the trad snug, but a great experience if you're in town.
---
Mackenzie's Bar, Liverpool
This fabulous bar in Liverpool's Georgian Quarter was a bank building in a previous life, and its high ceilings and grand proportions make for a great venue. Attracting whisky professionals and novices alike, the philosophy behind the drinks selection is one of exploration and celebration. "We admire the obscure" is the mantra here, and it shows in the array of real rarities behind the bar.
---
The Connaught, London
Situated in what is perhaps London's most glamorous, certainly its most elegant, Mayfair hotel, the Connaught Bar shimmers with platinum silver leaf walls, setting the tone for some serious whisky based cocktails and their own brand of Connaught Cask Whisky. The bartenders are charming and know their stuff; they will conjure up heaven in a glass once you make up your mind. Unforgettable and sophisticated, one to dress up for.


---
IL Recommends | Top Whisky Bars in Wales
Barley and Rye, Cardiff
Also known as the Bier Bar and Kitchen, this is a sleek and stylish establishment, a terrific mix of stripped wood and contemporary seating, and although the emphasis is on craft ale – wait, don't go away – this vibrant bar offers the largest selection of whiskies of anywhere in Wales! And cool surroundings in which to sample them.

---
IL Recommends | Best Whisky Bar in Northern Ireland
The Merchant Hotel, Belfast
This opulent and luxurious bar is set in an historic Grade A listed building with an extraordinary range of whiskies and jolly convivial surroundings to match. You can stay in the hotel and mooch in here to enjoy a whisky-based aperitif before dinner or a relaxed nightcap before bed; night owls will love it as it's open until 1am at weekends.
---
The Corner House, County Armagh
A hidden gem, this country inn is in the pretty village of Derrymacesh and can hold its head up high with many a metropolitan bar with a fine selection of Irish whiskey. It's easy to take the time to sip and appreciate in these beautifully restored interiors, plus musicians often take to the floor, making this a particularly warm and welcoming member of our Top 20.
---
The Bullitt Hotel, Belfast
Ultra-contemporary and new in town, this hotel/bar/restaurant is recommended by the Whiskey Society in Northern Ireland and is refreshingly free of tired pub tat. The range of Irish whiskeys is impressive, and you can enjoy it warm with ginger in the courtyard or hunker down and nurse a good glass inside.
---
The Dylan Whisky Bar, Kilkenny
A Victorian style bar with turf fires and a whisky library at the back, The Dylan has capacious leather chairs to snuggle into and a cast iron reputation as a whisky lover's destination. The whisky (or perhaps more accurately, whiskey) is flowing and the 'craic' is always good; a definite drop in place if you're visiting Ireland.

---
The Jasmine Bar at Brooks, Dublin
Venue of choice for Ireland's Irish Whiskey Society meetings, The Jasmine Bar is tucked inside the acclaimed boutique Brooks hotel, and is a gorgeous place for both whisky aficionados and complete beginners. Voted one of the 'Great Whisky Bars of the World' by Whisky magazine and part of Ireland's Whiskey Trail, this Dublin bar takes the golden spirit seriously.

---
Dick Mack's, Dingle, County Kerry
So it might not be as slick or luxurious as some of our choices, but no list of whisky bars in Ireland worth its salt could omit this one. Named Best Whiskey Bar in Ireland, this classic family pub dates back to 1899 and stars past and present, from Sean Connery to Julia Roberts have all had a snifter of whisky here. All the Irish greats are served plus regional drams from Scotland.